Happy New Year! Happy New Year! Happy New Year! TechByter Worldwide is off this week. A little more off than normal, that is. The podcast and column will return in a week with another hour's worth of technology news is about 20 minutes.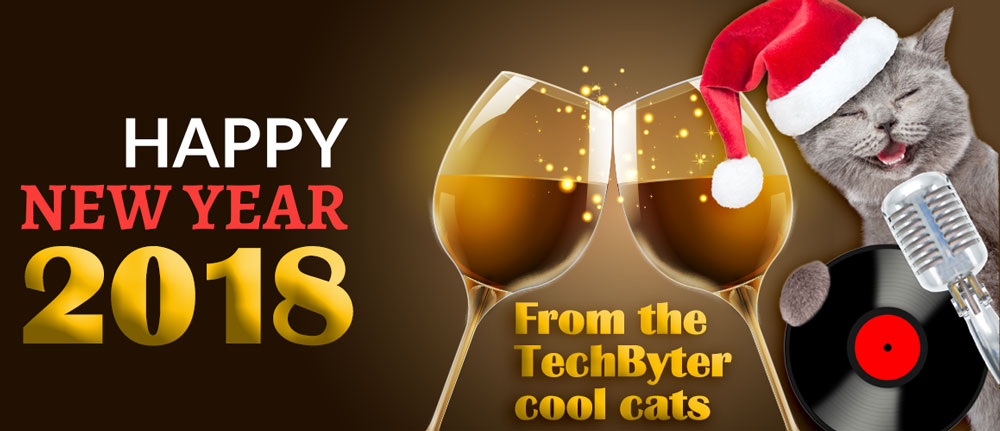 I'm Dreaming of a Secure 2018; Maybe It's Only a Dream: This year has seen an increase in numerous kinds of threats designed by people who want information that's on your computer, money that's in your bank, or both. The problem gets worse every year, so we'll see more threats in 2018. Now is a good time to consider some of them.
Short Circuits: Handcuffs for Apps that Use Your Data Plan: Those who have cell phones that use a data plan (and that seems to be about 90% of us) may occasionally be shocked by how much data some apps use. Google has a new application that not only identifies which applications use the phone's data plan and how much the apps use, but also gives users a way to control the usage.
Where Did the Control Panel Go? Windows continues to have 2 Control Panels -- the traditional desktop application and the one that was introduced with the Modern interface. The new Control Panel offers access to the old Control Panel because some settings still haven't been incorporated into the new Control Panel. Until the Fall Creators Update, the old Control Panel was what you'd find on the WinX menu. Now you get the new one. If you'd like easy access to the old Control Panel, I'll explain the easiest way to get it.
Spare Parts (only on the website): Lots of companies sell your information. Nothing new there, but what about companies that don't question requests from government agencies? The Electronic Frontier Foundation has a list. • Password Manager Dashlane has a list of the 10 worst password offenders for the year and Donald Trump is at the top of the list. Dashlane will explain why. • Is hibernation enabled on your computer? Should it be? Let's see how to turn it on if you want it or turn it off if you don't.
The End Until 2018: This is the final program for 2017. We'll take next week off (although you can expect a New Year's greeting) and then we'll be back on January 7th with new content, some new music, and more of the same 60 minutes worth of technology news in about 20 minutes.
Alternatives to Software Subscriptions: Software as a service (SaaS) and software subscriptions are the licensing methods that increasingly are preferred by companies. They offer advantages for users and for developers, but some users are vehemently opposed to either concept. If you're in that group, there may be viable alternatives and we'll take a look at some of them.
Short Circuits: Ending Net Neutrality? On Thursday, the Federal Communications Commission acted against the wishes of most Americans to repeat the Net Neutrality rule. More than 80% of voters oppose the Federal Communications Commission's vote and there's very little difference of opinion between Republicans, Democrats, and independents. There's still one small chance to save Net Neutrality, but it involves Congress.
NATO Goes All Cyber Warfare: The so-called Islamic State has been successful in using the internet to create followers and to debase the religion they claim to support. The organization also is attempting to create havoc on the internet. Cyber threats also come from Russia, China, North Korea, and Iran. NATO has other ideas.
Updates from Adobe: The first part of the program examined alternatives to rental software and, as if on queue, Adobe released updates to several of its apps this seek and those updates serve to illustrate the advantages of rental software.
Spare Parts (only on the website): A Bluetooth device claims to work with all digital assistants except Cortana. • Central New Mexico Community College has started issuing digital diplomas. • A company that provides services to jails and prisons says that music and other streaming media might reduce violence among prisoners
OnOne Photo Raw 2018 Adds HDR and Panorama: OnOne's 2018 version of Photo Raw adds several new features that will appeal to professional photographers and advanced amateurs. As with many other applications that were once offered only as plug-ins for Adobe Photoshop, Photo Raw can now run in stand-alone mode and can be used to manage photos. We'll explore the ability to create a panorama from multiple images, image versioning, improved masking, high dynamic range processing, and the ability to apply noise reduction selectively.
Short Circuits: Being SMART About Disk Drives: Computers have disk drives. Some have moving parts and others don't, but they all have one thing in common: They can fail with what seems like little or no warning. In fact, modern disk drives do warn about impending failure, but those warnings go unnoticed unless you occasionally run a S.M.A.R.T. monitoring tool. Fortunately, free and low-cost monitoring tools exist.
The Possible Future for Batteries: Zinc-Air: For more than a century, battery technology didn't change much. Zinc-carbon and zinc-chloride were the mainstays and those technologies are still in use for inexpensive single-use batteries. Then rechargeable batteries came along: nickel-cadmium, lead-acid, nickel-metal hydride, and today's lithium-ion. Zinc-air batteries, which have been around for a while might be the next big step.
Android Security: The Worst: Android devices are generally considered to be the least secure computing devices on the planet. It appears that Google is finally trying to do something about the problem.
Spare Parts (only on the website): Money can't buy happiness, but the maker of an IOS app says it can bring Joy. • A Bluetooth gadget claims to make Alexa available in your car and to do so without being a distraction for the driver. • An "initial song offering" might mean that music fans can own a small percentage of certain songs, but only if they live outside the United States.
Skipping Updates Can Cause Big Trouble: When you consider that I'm surrounded by three Windows 10 computers (one running a slow-ring version on the Insiders program), a Mac, and one that runs Linux Mint, you might expect that one system or another will pester me about updating something frequently. You would be right. These updates may seem bothersome, but skipping them would be a mistake. Let's look at how Windows, MacOS, and Linux handle updates.
Chrome is On Top, but Don't Count Firefox Out: It's been a long time since Firefox began its quest to take over the browser market from Microsoft's Internet Explorer. It was November 2004 when Mozilla released Firefox 1.0 after more than 2 years of development and pre-1.0 releases. After reaching 31% market share, it was pushed away by Chrome. Now there's Firefox Quantum and it's impressive.
Short Circuits: One Uber Data Breach: If you've ever driven for Uber or used Uber to take you somewhere, a great deal of information about you is on computers operated by crooks. Uber made the breach public just before Thanksgiving, but they had know about it for more than a year. Wait until you hear why they think your information is safe!
Avoid This Fraud: Email scams continue to improve. Although they're still fairly easy to spot, the crooks are getting better at disguising them. I recently received a message from my "webmail administrator", so I knew the message was a fraud. I am my own email administrator and I didn't send myself the message. We'll deconstruct this to see how it works.
Spare Parts (only on the website): How about a Wi-Fi hotspot that looks like an umbrella? • Or maybe a device that looks like brass knuckles but lets you type on your tummy? • Waze teams up with Allstate Roadside Services. • A new app allows ophthalmologists to monitor patients at home.
You're in luck! It's the annual Thanksgiving holiday break, so there's no program this week. Click the link for this year's greeting from the TechByter Turkeys.
Exposure X3 Makes Photo Editing Quick & Easy: The latest iteration of Alien Skin's Exposure adds equal measures of features intended to make file management better and to improve the editing experience. No longer solely a plug-in for Adobe Photoshop and Lightroom Classic, it now gives users full photo management capabilities. We'll take a look at what's new and how the application can be used either as a plug-in or separately.
Short Circuits: Let's Enhance Can Improve Your Antique Digital Photos: Early adopters of digital photography may have dozens or hundreds -- maybe thousands -- of low quality images on their computers. A new on-line service called Let's Enhance promises to correct some of the flaws in images such as these old low-resolution and highly artifacted images. Let's see how well the process works.

CompuServe Forums: The End: Harry McCracken, Fast Company's technology editor, wrote this week that CompuServe's forums are being discontinued. This is very much like hearing a news report that a famous actor has died and realizing that you thought he died years ago. Now the end is near.
Spare Parts (only on the website): Another iteration of Locky, the malware that encrypts files and holds them hostage, wants to come aboard your computer. • GoDaddy introduces a new feature for businesses that need to establish appointments with customers. • A survey says that artificial intelligence is the future. • Battling identity theft and wire fraud in the real estate industry.
Moving Everything from One Computer to Another: My wife needed a new computer. The computer she had been using for 5 or 6 years was showing serious indications of failure. Instead of moving everything manually -- a process that would take at least 2 days -- I used an automated process and enjoyed the easiest migration ever.

Multiply Bitcoin Value 13x in Less than an Hour? Probably if someone approached you with an offer to take your $100 investment and return $1300 to you 40 minutes later, you would suspect a con. That, however, is what some crooks are doing with Bitcoin currency. It sounds too good to be true and, except for the crook, it is too good to be true. We'll take a look at how the con works.
Short Circuits: Making Your Operating System Behave: Operating systems -- whether Windows 10, MacOS High Sierra, or just about any version of Linux -- are far easier to customize today than they ever have been. Instead of just grumbling about it, why not change things?
Get an Eyeful of This! Occasionally TechByter Worldwide veers off the technology track a bit. This is one of those times. In October, the retina in my right eye detached partially. This is an event that, diagnosed early, can often be successfully repaired. When the symptoms are ignored, the result can be blindness, so I thought that I'd take a little time this week to talk about it.
Spare Parts (only on the website): A hospital in California is using virtual reality as a distraction during medical procedures so that children don't need to be anesthetized. • On-line payments need to be made easier and more secure. Some companies are working on it. • Maybe you'd like a computer that will survive if you literally throw it out a window.
Snagit's New Features Should WOW Users: Snagit is the screen capture application from TechSmith. It's been around for 30 years and, with the exception of a few stumbles in recent versions, it has always been the best way to capture a picture of what's on the screen. For that reason, it's popular with educators, documentation specialists, and software developers. The latest version adds several features that allow users to modify captured images in surprising ways.
If Passwords are History, What's Next? Nobody likes passwords. Far too many people still share the same user name and password between accounts and crooks know that if they get your Facebook credentials, they might also have your bank credentials. Too many passwords are weak and too many people can be tricked into giving their passwords away.
Short Circuits: Check Google Chrome Browser for Updates: Chrome updates automatically, so you probably have the latest version, but now would be a good time to check. A high-severity buffer overflow vulnerability was discovered near the end of October. Checking would still be a good idea.
Six Identity Theft Ring Members Indicted: A federal grand jury has indicted 6 people on charges of identity theft and credit card and debit card fraud. Those indicted are from Virginia and Maryland. The indictments charge them with conspiring to commit bank and wire fraud, conspiring to traffic in contraband cigarettes, and aggravated identity theft.
Spare Parts (only on the website): Honors for the "fathers of the spreadsheet" notes the 1979 development of Visicalc. • According to recent research, a surprising number of people ignore recall notices.
Windows 10 Fall Creators Update is On the Way: Or maybe it's already on your computer. There's an easy way to find out if it's there, so we'll look at that and, if not, maybe you'd like to know how to obtain it or avoid it. We'll check that, too. And for everyone, let's see what's in it.
Creeps, Ascending: I have become quite popular recently. Burger King wants to give me a gift card, Donald Trump wants to give me a tax break. Sam's Club has been trying desperately to reach me. Kohls and Walgreens both have gift cards for me. And Amazon wants me to have $100. They're all frauds, of course.
Short Circuits: Has Your Identity Ever Been Stolen? That's the subject line of a message I received from Tim Marvin at Consumers Union, the company that publishes Consumer Reports. They'd like your help in explaining the problem.
Consumer Reports Offers Privacy Help: Related to the previous item, Consumer Reports has put together a 6-step program to protect your privacy. The article describes things you can do in less than 30 minutes to safeguard your information and reduce the barrage of unsolicited mail, telemarketing calls, and pop-up ads.
Spare Parts (only on the website): A new version of Snagit adds several useful features. • A middle school student in New York City won a 3D printer and 30 Raspberry Pi computers from Micro Center for his school.
Adobe Maxes Out with 12,000 Creatives in Las Vegas: Fall is my favorite time of the year, in part because that's when Adobe's annual conference occurs. It's called Max and this year it was in Las Vegas. Some 12 thousand people attended and they came from more than 60 countries. There's a lot that's new this year and, although Max attracts a mainly professional audience, there are advances for those of us who have more modest talents. We'll take a look.
TechSmith's Camtasia Minor Update Has Big Features: Anyone who creates training videos has undoubtedly at least heard of Camtasia and, based on instructional videos posted to YouTube, probably use it. The most recent major upgrade standardized the application for Windows and Mac, but retained different version numbers -- 9 for Windows and 3 for Mac. The latest minor upgrade comes without cost and brings 3 new useful features.

Short Circuits: Posting Files that Disappear: Just about everybody has to send a file to somebody else at least occasionally. If the file is small, it can just be attached to an email message. Larger files may need to be uploaded to a sharing system. Both of these have problems, but Mozilla has a clever solution.
Safe At Home: In the old days (back when we computers had slow mechanical disk drives and an old fashioned BIOS), booting to safe mode when you needed to was easy. On most computers, pressing F8 would halt the boot process and display a list of options, one of which would be Safe Mode -- handy when something was causing the computer to crash and you wanted to start the computer with only the most essential drivers. If you've tried that recently, you found that it didn't work. You can still get there, but you have to know one of the secret handshakes. Well, I know some of them.
Spare Parts (only on the website): If you're tense, maybe it's more than just the chaos all around us. Maybe you're breathing wrong and there's an app for that. • Robocalls declined slightly in September, but you probably didn't notice it. We'll take a look at the numbers and find that Columbus, Ohio, is the #2 top source of these calls.
Adobe Elements Makes Power Edits Easier: The latest edition of Photoshop Elements and Premiere Elements, released in early October, improves several existing features and brings some new features to non-professional users. By non-professional, I mean those people who want to use the images and videos they've created to make slide shows, calendars, photo books, and such. In a future program, we'll consider Premiere Elements, but this week we'll look only at Photoshop Elements.
Can You Spot the Phish? Business owners and managers are making a more serious effort to combat phishing emails because they are the primary way that crooks gain access to private information as well as the most common way that ransomware attacks are launched. But it's not just businesses and home compter users can learn from the businesses do.
Short Circuits: Alien Skin Updates Exposure X3: A new version of Exposure X3 is out and Alien Skin says that it offers both some new features and faster processing speed. It runs as a plug-in for Adobe's photo applications and also as a stand-alone application.
Shutterstock Offers Enhanced Photo Searches: When designers are looking for an image, they often have something specific in mind. For example, a picture of a cat with space on the right for text. Stock image company Shutterstock is trying to make the process of finding such an image easier with Composition Aware Search, which is currently in beta.
Spare Parts (only on the website): There's a growing demand for personal photos on objects such as mugs and calendars. • Kodak says it has a way to help us identify and print the photos that mean the most to us. • Bluehost makes it easier for people to set up WordPress enabled websites.
The Apple ][ at 40: The device that truly introduced personal computing to the world is 40 years old and some of them still run. The Apple II came to market in 1977. At the time, it was a breakthrough with a MOS Technology 6502 8-bit CPU and as much as 64K of RAM. Hobbyists liked the Apple II, but in 1979 something happened that caused office workers to be interested. We'll look at some of the history.
Reconsidering My Reconsideration of Evernote: On 4 June, I shared a segment called Reconsidering Evernote. Now, only 3 months later, I must reconsider reconsidering Evernote. In June, I complained about Microsoft's One Note because the synchronization feature caused the computer to be slow and suggested that the solution might be Evernote. Now I've switched back to OneNote.
Short Circuits: New from Google: Google has increased its threat to Apple, Amazon, and Samsung with lots of new hardware this week and most of the hardware is packed with artificial intelligence.
Add Another 2.5 Million Affected Equifax Accounts: Equifax says that another 2.5 million accounts need to be included in the list of those affected by the gigantic data breach. That pushes the total up to nearly 146 million accounts. The company's interim CEO, Paulino do Rego Barros, says that the news comes from the forensic investigation by cyber-security firm Mandiant.
Yahoo: Still Number One: When it comes to data breaches, nobody takes a back seat to Yahoo. The company's previously announced "biggest ever" data breach just got larger. This week the company increased the size of the breach that started with a paltry 500 million users to 3 billion.
Spare Parts (only on the website): This is National Cyber-Security Awareness Month and Malwarebytes has some suggestions. • Perhaps you've wondered what on-line criminals want. These days, it seems primarily to be your user name and password. • D-Link has updated a home security camera with some new features and support for Android devices.
Let's Take a Long Look at Linux: Linux has been around for a long time and I mention it occasionally. Maybe you've wondered whether it would suit your needs. The only way to find out is to try it and this week we'll look at several ways you can do that.
Short Circuits: More Fraud for Your Amusement: Sometimes I think that people who fall for obvious frauds got what they deserved. The clues are so obvious that we need only to be careful about what we're doing. Let's take a close-up look at a couple of frauds that could get you into trouble.
Which People are Most Dangerous to Companies? If you're trying to keep your company's data secure, who poses the greatest threat? Maybe you're thinking it's the Russian mafia, Chinese cyberspys, or your competitors. But no. The most serious threat is employees.
Spare Parts (only on the website): Despite repeated warnings, people still click bad links and create needless trouble for themselves. • Digital assistants are coming to help with your home automation. • The next big thing in retail sales might be a streaming app that lets you talk with a store clerk from home. • And computer manufacturers are probably dismayed that more companies are making universal docking stations that cost a lot less.
The Changing Face of News in a Mobile Era: The way we obtain news has been changing. The number of people who get most, or even some, of their news from printed newspapers has declined drastically over the past 30 years. Television is still in the top position, but not for long. A Pew Research project shows that just under 60% of Americans often get news via television. About 38% cited on-line resources, 25% said radio, and just 20% mentioned print newspapers. Don't count the "old media" out just yet, though.
Adobe Sparks Interest in Your Brand: Adobe Spark has been aimed primarily at the general public, but features released this week make it a valuable component of Creative Cloud because users can now remove Adobe branding and apply their own brand. Better still, the application helps by making intelligent suggestions for colors and will even assist with creation of a logo.

Short Circuits: Bad Stuff Where You Least Expect It: CCleaner (short for "Crap Cleaner") has been around for decades. It's a program that a lot of people use to clean up temporary files and remove unnecessary Registry keys, but a recent version was hacked and may have infected your computer. Don't panic, though; it sounds worse than it is.
Android Smart Phone Users: Check for Malware: If you have an Android smart phone, it may have been infected with malware that made its way past the anti-malware protections in the Play store. More than 100 apps have been found with malware that sends premium-priced SMS message. This could be big. The applications in question have been downloaded at least 1 million times and possibly as many as 4.2 million times.
The Importance of a Cell Phone: My network connection vanished about 10:30 on the morning of September 15. At the time, I was connected to a client's network and I was able to resume the connection by turning my cell phone into a Wi-Fi hotspot.
Spare Parts (only on the website): How to figure out if that new car you want will fit in your garage. There's an app for that. • Business owners may increasingly turn to bots and virtual assistants to provide customer service. • What do Angry Birds have in common with football players? • And -- in the old days, IBM was always the safe bet for the IT manager. Now it's Microsoft, SAS, Google, and VMware.
Considerable Coolth from Apple: If we have warmth, why don't we have coolth? When when something is really cool, it can also be hot. Imponderables aside, Apple this week introduced its view of the future: Three new smart phones, an updated watch, and a 4K television. Two of the phones will be available almost immediately, but you'll have to wait for the third.
Hold the Phone (the Right Way for Videos): If you use your phone to capture videos, you might be holding it the wrong way. Some topics are controversial -- like toilet paper (over or under?), pets (cats or dogs?), and computers (Windows or Mac?) -- but one topic shouldn't be at all controversial. There is a right way and a wrong way to hold a phone that's being used to capture video. Or is there? What is it and why?
Short Circuits: Need a Utility Program? Try OlderGeeks.com: Several sites offer free downloads of utilities, but most of them do things that could be considered a bit unethical if not totally dishonest. This week I found a download site that's refreshingly honest and has a hidden surprise in the middle, a surprise you'll like.
The Equifax Breach: What Now: Following the Equifax breach, you might be wondering what security measures you should take. Freezing your credit report is one that has nearly unanimous support from the security pros. It turns out to be quite easy and only one of the firms charges a fee. Let's see how it works.
Spare Parts (only on the website): As handy as jargon is within an industry, it can be a serious impediment when you're trying to communicate with outsiders. • Foxit has a new tool for PDFs that makes the documents more usable for those who need to use a screen reader. • We'll find out what a digital pumpkin in and why you might want to work in one.
Adobe Wants You to Get Out of the House (or Studio): Adobe has so many applications that run on mobile devices that it's hard to keep track of them all. Some are aimed at professional photographers, designers, and videographers and others are intended more for amateurs. That doesn't mean amateurs can't use the pro apps or vice versa. It just means that you may need some guidelines to tell the applications apart. We'll consider some of each type today.
How About a 400GB Memory Card for Your Phone? It's now possible to capture raw images, not just jpeg files, on some phones. If the hardware is capable and you're using Adobe Lightroom's mobile application, raw is an option. But raw images take up much more space than compressed jpegs. Instead of a file that's 2 or 3 megabytes, you'll have one that's 10 or 20 megabytes, or more. How much storage is available on your phone? For phones that can accept microSD cards, storage is about to get larger. A lot larger.
Short Circuits: Equifax Breach is Huge: It won't go down as the largest breach in history, but it could be the worst we've seen so far because of what thieves walked off with.
Maybe Microsoft Security Essentials is Best After All: The security landscape is frustrating at best. Toward the end of the last century, Norton Antivirus was the application that seemed to provide the best protection. In 1990, Norton sold the company to Symantec and since then it's been a challenge to find a system that works without needlessly hampering users.
Spare Parts (only on the website): Backup software publisher Acronis has added several useful new features to this year's version of True Image. • Adobe and Microsoft have agreed to cooperate with each other on enterprise-wide applications. • A survey of security professional says that some of the most dangerous applications are ones we use every day.
Lying with Landscape Pro 2 (It's OK if You Do It Honestly): The title of this section is intentionally provocative so that it can address a concern that many people, including me, have about photography today. Saying "the camera never lies" has been less than entirely true from the beginning, but today image modification is easier than ever and ethical considerations get mixed into our considerations. We'll take a look at the new version of Landscape Pro after considering photography's less-than-honest past.
Just What We (Probably Don't) Need: How many flash drives do you have around the house? I still have one that holds just 64 megabytes of data from when they were being introduced by an Israeli company. Soon you'll be able to build one that could put 2 terabytes of data in your pocket.
Short Circuits: Phone Scammers Have a New Area Code (Yours): The creeps who operate robo call operations are always looking for a way to get past our defenses. They can fake just about any phone number, so not long ago calls started appearing to come from my exchange. Is it time for phone companies and the FCC to do something about robo calls?
Cameras Everywhere. Are We Safer Now? When you're outside the house, look up. Chances are pretty good that you'll see a camera. Many intersections have cameras. Gas stations and stores have cameras, inside and out. When you use an ATM to get money or make a deposit, you're probably on camera. New York attorney Yoni Levoritz says that he has concerns about civil liberties issues even as he acknowledges some of the advantages those all-seeing cameras provide.
Spare Parts: Malwarebytes comes to the Mac and just in time because more crooks are targeting Macs. • Toyota wants to connect your car to everything and the company has a new division that's working on it. • NASA's live streaming of the recent solar eclipse was a record breaker for internet streaming.
Fixing Outlook's Mail Merge Shortcomings: Anybody who needs to send the same information by email to several people has several choices. One of these choices involves using Outlook's mail merge feature (which actually lives in Microsoft Word). There are many opportunities for improvement. One of the best and most flexible adds features Microsoft should have included.
Changes Coming from a Major Backup Provider: CrashPlan is getting out of the home backup business a little more than a year from now to concentrate solely on the small office/home office (SOHO) market. That doesn't mean home users will have to stop using the backup service, but it does mean that they'll have to pay more.
Short Circuits: Correcting a Problem That Shouldn't Exist: If you've ever clicked on the Speaker icon in the Notification area only to see no response, you're not alone. There's a workaround for this problem, but it's a problem that shouldn't exist. Fortunately, it's easy to fix.
Defeating Shoulder Surfing Attacks: Maybe you've used an ATM and noticed somebody standing uncomfortably close to you. Or maybe you didn't notice. If you used a drive-up ATM, you could still be observed by a well placed camera. This is called "shoulder surfing" and it's yet another way that crooks can obtain information you don't want them to have. Researchers at the New York University Tandon School of Engineering say they've invented a way to eliminate the threat.
Spare Parts (only on the website): How about a little flight information with your weather forecast? The Weather Company will provide that. • Website protection company SiteLock has acquired a Dutch firm that automatically applies patches to common content management systems. • GoDaddy has added a new level of security to websites it hosts. • Supermicro Computer is about to release gigantic storage devices in tiny packages.
After Seven Years, I Welcome an Ipad to the Studio: Sometimes our words come back to bite us in the (uncomfortable locations). Let's look back to the May 30 TechByter podcast from 2010. A little less than 2 months after the first Ipad was released, I said "I don't own an Ipad and I don't plan to own one anytime in the near future." Things have changed.
Science Says an Eclipse is Coming. Do You Believe It? Monday, 21 Aug 2017, a solar eclipse will be visible in much of the continental United States. The sun will be about 86% obscured in central Ohio, where I live. To see the total eclipse, I would need to travel 300 to 400 miles southwest. I won't be doing that because driving 6 to 8 hours to see an event that lasts less than 3 hours seems illogical when I can stay put and see 80% of it by just walking out the door. The solar eclipse raises a few questions that I'd like to consider in an editorial.
Short Circuits: Beware Fraudulent Extensions: Some well-known extensions for Chrome have been hijacked in the past month or so. At least 7 legitimate extensions were compromised when crooks were able to take over the developers' accounts.
Ouch! Outlook Won't Open Any Which Way! Now What? This isn't exactly a welcome series of events: Outlook crashes on open. Then it offers safe mode, which crashes on open. And finally it offers repair mode, which crashes on open. One might suspect that something is wrong with Outlook and that's where my investigation began, but it seemed to be a dead end.
Spare Parts (only on the website): You could have a company send phishing emails to your employees and there's a good reason why you might want to. • If you've ever wanted to learn more about how tornadoes form, The Weather Channel's website has some useful information. • Increasingly, people are pulling out smart phones instead of wallets when they want to pay for something.
Learning with Lynda: Without a doubt, Lynda.com is the biggest general information learning site on the Web. There are others that provide more in-depth information on specific topics, but Lynda.com covers a wide range of basics and dives deep into some areas. Better still, if the $25 to $35 monthly cost doesn't fit your budget, you may be able to learn for free.
Be Smarter than the Average Scammer: "Hello, I'm from Windows Support" isn't as effective as it once was for scammers. Most people have learned that Microsoft doesn't call people to tell them about a problem with their computer. But phony email messages about missing packages and canceled orders are still effective. The scammers are combining the ploys.
Short Circuits: The Low Cost of Getting into the Malware Business: If you're an aspiring crook, you might want to know about the Ovidiy Stealer. For about $10, you can license the application that steals credentials. The price range seems to be $7 to $13. Admittedly, it's not the most sophisticated malware on the planet, but what do you expect at that price?
Microsoft Eliminates Some Big Nasties: This month's updates from Microsoft eliminated some nasty bugs. This update caused operational problems on one of my computers, but they were easily resolved. The most serious threats the patch fixed deals with a flaw that exposed all current versions of Windows to malware that could take over a PC and then spread to other machines on the network.
Spare Parts (only on the website): How about a back-to-school computer for less than $200? Windows or Android. Detachable keyboard. Not much power or memory, but it might be just right if you don't need much power or memory. • Robocalls in July increased by 3% from June and more than 7% over July of last year. Makes you want to reach out and touch someone. Violently.
Make Your Scanner Happy with VueScan: Scanners used to be expensive and few people had them. Now, anyone who has a printer probably also has a scanner because nearly every printer is now a multi-function device that can scan documents, copy documents, and even perform as a fax machine. But the software that came with it is second rate. Better options exist.
Some Help for Selfies from Waterloo: Computer scientists at the University of Waterloo in Canada have developed technology that someday might power a smart phone app to help users learn the art of taking great selfies. This also gives me an opportunity to discuss Waterloo's history in data processing.
Short Circuits: For Flash, the End is Near: As of 2020, Adobe will discontinue Flash. Useful for animations in a time before touch-enabled devices rendered it difficult to use, Flash has also had more than its share of security problems.
Rewards for Bugs: Are you the kind of person who likes to poke around in operating systems or applications to look for security flaws? If so, Microsoft has a deal for you. Or maybe it doesn't.
Getting Ready for the Next Windows Update: Microsoft will release a Windows 10 update this Fall and the company says the Windows 10 Fall Creators Update will have innovative features to further empower your creativity. I've been running Insider preview versions on the notebook for a while, so that I can see slightly into the future. Let's take a look.
Spare Parts (only on the website): It looks like some of the top security firms in the computer industry have more than a little work to do on their own security. • A quick look at my older daughter's progress following the medical event that resulted in cancellation of the mid May TechByter program. • And AnchorFree says that it has an application that can be used to protect users if the Federal Communications Commission kills net neutrality.
Security and Your Smart Phone: Maybe you saw a report that suggested free smart phone charging stations can steal information from the phone. A company called Authentic8 performed an experiment that showed most people would use a free charging system without asking about security, but the way the information was presented was a bit confusing.
Why You Don't Want that BIOS Update: The embarrassing thing is that I knew better, yet when Lenovo insisted that a BIOS update was really, really important, I agreed to having the system install it. That's almost always a mistake and it was this time. The general rule is this: If you're not having any problems that can be traced to the BIOS, don't install an update. I reminded myself this week why that's the general rule.
Short Circuits: Another Approach to an Old Nigerian Scam: Recently I was pondering the absence of email from people in Nigeria who want to give me vast sums of money for helping them to move various inheritances, ill-gotten gains, and windfalls out of the country. Most of those scams were written so poorly, some believe intentionally, that only an imbecile would fall for it. Now they're back, but with a difference.
Tell Me Again How Macs Are Safe from Malware: Ars Technica had an article this week about malware aimed at Macs. It secretly takes control of webcams, can capture what's typed on keyboards, and can see data on the system. None of that is particularly surprising, but this is: The malware has been infecting Macs for at least 5 years and possibly 10.
Microsoft Is Killing Paint! Maybe you've heard the gnashing of teeth this week. Microsoft will eliminate Paint from Windows 10's next edition. Oh, boo hoo! Well, that's fake news. A half truth. Call it what you will, but I call it a lie.
Spare Parts (only on the website): Could Adobe's next frontier be virtual reality? This appears to be likely. • Desktop computers and tablets are declining in sales, but tablet-like 2-in-1 devices could take over as the primary business computer soon.
How to Find the Best Camera in 2017: If you're thinking about buying a camera this year, you have more choices than at any time in the past. Photography is my primary hobby, although for more than a decade it was my profession, so before we even get started I have a confession to make: There is no one best camera. What's best for me might not be best for you. And beyond that, what's best for me today at noon might be completely wrong for me at 3pm. I'll try to explain that and make some sense of it.
Questionable Offers from "Camera Sellers": If you've ever priced a camera using the internet, you'll find that all of the sellers' prices will be within a few dollars of each other -- and then you'll see one price that's unbelievably low. "Unbelievably" is the key word here. If everybody else has priced a given camera model at $1100 and one store lists it for $850, one thing is clear: You will not be able to purchase the camera for $850.
Short Circuits: Other Camera Considerations: When choosing a camera, other factors deserve some consideration. I'll mention a few that I think about when trying to determine which camera might be right for a particular task.
It's Not Just Pixels: A camera that has 80 gazillion 300 billion 435 thousand megapixels won't necessarily create a better image than one with 12 megapixels. Or 10. Or even 3. There's a lot more to the image than the number of pixels. One important consideration is the size that you want the resulting image to be.
Spare Parts (only on the website): Yes, the camera theme continues here with a camera comparison chart and then we'll move on after I mention a special deal from Alien Skin and some improvements from Adobe for mobile editing. Research suggests that blockchain technology will save financial institutions lots of money. And if you buy snacks from food kiosks that are found in many corporate locations, crooks may have your credit card information and more.
Your Car's Built-In GPS is Obsolete: Your car may have a built-in GPS unit, but you probably don't need it if you have a smart phone. The GPS unit in my car is significantly out of date because I haven't bought an update disc for several years. There are few reasons I'd want to. Google Maps and Waze are the two most popular apps.
Pondering "Net Neutrality": Net Neutrality is a topic I've touched on before. It's perceived by some as being a political issue, but -- as a technology guy -- I can't see any justification for making it political. It's a high-stakes money issue and it appears to me that the heads of some big internet service providers see a way to get to a big financial payoff by dividing internet users. Consumer Reports, the Wall Street Journal, and nearly every tech company you can name (except the ISPs) are in favor of net neutrality. Let's see why that is.
Short Circuits: Maybe It's Time to Upgrade to a Solid State Drive": Solid state disk drives have been around for a while and, despite their significant advantages, some people are still wary of them. Too wary. Early on there were some downsides but those have been reduced to the point that SSDs are a good choice for a lot of people.
Nuclear Power Plants + Malware = Not a Good Thought: Let's start with this: The systems that operate nuclear power stations are "air gapped", meaning that they're not connected to any network that's connected to the public internet. That makes them considerably safer than they would be otherwise. But it doesn't mean that they're secure. Some are vulnerable because they are "insecure by design", but there's a deeper problem.
Spare Parts (only on the website): Wi-Fi will be present on more than half of all commercial airliners within 5 years. 4D printing is the future even if you have no idea how something could be printed in 4 dimensions. This may sound like a repeat (and maybe it is) but we are facing the final showdown on net neutrality and it's time to speak up.
Helping Students Cope with School: What happens when students start middle school and find that the more complicated schedule is confusing? How do they deal with changing classrooms several times a day instead of being with one teacher all day? And, unlike in elementary school, they may find that teachers don't check homework every day, expecting the students to keep up on their own. It's part of growing up, but some students never quite figure it out. These are students who will not succeed in school. Then there's Carlos Mayers, a student in New York City, who not only learned to cope but decided to find a way to help other students succeed. We'll talk with him about what he did.
XP, The Operating System that Would not Die: Windows 7 is the most commonly used version of Windows, but Windows 10 is gaining ground. What's odd, though is that Windows XP just won't lie down and die. XP hasn't been supported for a while now and 16 years is an enormous life span for a version of an operating system. You'll still find XP in banks and in hospitals. You'll also find it in a brand new British warship. That's not as dangerous as it might sound.
Short Circuits: Your Domain Name Will Be Registered in China? If you have registered a domain name (like techbyter.com or blinn.com), you may have received a message saying that "someone" is trying to register the name in China. To prevent this, you need to act fast and register it yourself. Maybe you haven't yet received a message like that, but you will someday. It's a con, so let's see how it works.
Cities that are Positioned Well for the Future: A report by accounting firm PwC (formerly Price Waterhouse Coopers) in Moscow rates some of the world's largest cities in terms of their readiness to adapt to new technology. Most of the cities are not in the United States, but the Pacific Rim is well represented.
Spare Parts (only on the website): Technology could save fuel, money, and time for airlines. Destroying some myths about cyber-bullying. And Angry Birds seem to be been multiplying with abandon.
Petya or NotPetya — What We Think We Know: This week's malware attack was something new, or maybe something old -- recycled. Some of the earliest malware, back in the 1990s, was intended to damage hardware. Damaging hardware doesn't have any monetary value, though, and crooks moved on to creating applications they could monetize. Not this time, though.
The Power Outage in Our Future: The US electric grid is struggling and most of us encounter at least occasional power outages. We're all at risk of more substantial outages -- ones that might not be easy to fix -- because of malware that attacks industrial control systems.
Short Circuits: Watching the Avalanche: We seem to be standing at the base of a mountain, watching an avalanche start near the top. We know what's going to happen, but we're powerless to stop it. No, this isn't a story about climate change. It's about malware.
Protecting Your Computer from Ransomware and Other Malware: One of the primary protections, other than being extremely careful about clicking links and being attuned to signs of danger, is keeping the operating system and the applications on the computer up to date. But there's one other key backstop.
Spare Parts (only on the website): Two big graphics providers are merging. Shutterstock will acquire Flashstock. And will we ever fully embrace paperless money? Some nations are moving faster than others.
Google Drive and Google Apps Fill a Need: In the past month or so I've developed a new respect for Google drive and the office-like apps (Sheets, Docs, and Slides). Two events drove my re-evaluation: First, the ability to store full-resolution images from my Google Project Fi smart phone. Then, following my older daughter's liver transplant in mid May, the need to maintain post-transplant information where members of the family could access it. We'll take a look at both use cases.
Why Zero-Day Exploits Matter: Occasionally I mention a new (and usually nasty) zero-day exploit that Microsoft or a security firm is warning about. You're told that you should update something or patch something or change your password. Maybe you're wondering why and what this is all about.
Short Circuits: Amazon + Whole Foods = Disruption: Wired Magazine has an insightful account regarding the implications of Amazon's proposed acquisition of Whole Foods. One thing is certain and that is the fact that this is going to disrupt the grocery industry.
Net Neutrality: Have You Contacted the FCC? The Communications Act of 1934 defined "common carriers" in Title II of the legislation. That is what the Federal Communications Commission used to define internet service, making it essentially like telephone service and other utilities. The concept is that all traffic on the internet should be treated equally and that internet service providers (ISPs) should be prevented from taking any action to give precedence to any provider. The FCC is planning to eliminate Net Neutrality.
Spare Parts (only on the website): Sony says it has sold more than 60 million Play Station units worldwide. And this week I have an update on my older daughter's recent medical emergency, along with a lot of gratitude for the Ohio State University Medical Center.
The Importance of Panic: Well, maybe not exactly panic. Maybe just extreme caution. I have a pretty good backup system, but still I always worry a lot when a disk drive problem pokes its ugly head around a corner. One did just that this week. The SMART monitor raised caution flags. No warnings of imminent failure, but noting that trouble was coming. Mild panic ensued.
Adobe Stock — No Longer Just for Graphics Professionals: Adobe Stock is moving forward on several fronts, one of them somewhat surprising given the service's concentration to date on providng stock images for users of Creative Cloud, which limited its appeal to professionals. In addition to providing an entire new class of images, Adobe Stock is enhancing its search function and providing access to office workers via a Microsoft Powerpoint plug-in.
Short Circuits: Microsoft Patches XP Again: Despite the fact that Windows XP no longer qualifies for any support from Microsoft, the company has once again issued security patches for machines that still use it, but Microsoft says users should still upgrade to supported systems as soon as they can.
More Attacks Aimed at Macs: The Malwarebytes blog discusses a couple of new approaches intended infect MacOS computers with malware. As with many other such exploits, these are being offered in a way that anyone can use it -- malware as a service. It turned out that these were primarily toothless, but they reveal the future of malware.
Short Circuits (only on the website): Security and ease of use. JD Power says their survey shows we want both even though they're generally considered to be opposites. And Microsoft is proudly promoting its new X-Box One X, even though it won't be available to buy until November.
Linux Is the Future and Probably Always Will Be: As much as I want Linux to succeed because it's inexpensive and open source (two things that I like), it seems always to be in the future. There are good reasons for this. Among them are resistance to change, the inability to run (easily) common Windows and MacOS applications, and the dizzying array of Linux distributions. Let's look at a few of the more popular distros.
Every Photograph Needs to Be Edited: One thing every professional photographer and serious amateur photographer knows is this: What comes out of the camera can be improved. That's not a new concept that came about because of digital photo editing. The old professionals often spent as much time in the darkroom as they did in the field. Today it's just a lot easier and anybody can do it. My favorite is Adobe Lightroom for organization and overall image correction, but there are other choices.
Short Circuits: Why Is My Wi-Fi Signal so Wimpy? Have you ever bought a brand new Wi-Fi router expecting it to outperform the old router in every possible way only to be disappointed when you got it home and installed it? As with real estate, location is critical. A mediocre Wi-Fi router positioned well will outperform a higher-quality router positioned poorly. But there's more.
Now That's an Apple! The IMac Pro introduced this week is clearly intended to win back some graphics professionals, who have expressed dismay at some of the company's recent offerings. Entry price for the IMac Pro is $1800, but if you're a graphics pro, you'll need more. So then you'll be starting with the $2300 model and you'll probably double that by the time you're done.
Spare Parts (only on the website): Waze, a highway information sharing application is partnering with an emergency call clearinghouse to provide more timely information to motorists and emergency personnel. Talent Unleashed is looking for outstanding technology start-ups. Microsoft has announced the winners and finalists for its enormous annual partner of the year program.
Evernote: Necessity is the Mother of Invention: Maybe the proverb started as "necessity is a mother----", but the day of reckoning for me occurred when one of my favorite programs, Microsoft OneNote, turned every computer I own into a sludge-infested brick. Really. And based on my research, it's not an uncommon problem. I needed both synchronization and good performance, which Microsoft apparently cannot provide.
Somebody's Looking Over Your Shoulder: When you visit a website, you'll probably be loading one or more additional components, usually in the form of Javascript. These small bits of code may provide useful functions such as ShareIt, which is one that I use for TechByter Worldwide. I have also enabled StatCounter because it provides information about how many visitors the site receives each week. But some sites load dozens of these things and some of them are not in your best interest.
Short Circuits: Dumping Protocols You Don't Need: Microsoft automatically activates numerous protocols that most people don't need within the operating system. In some cases, these can open the door to security threats. We'll look at how to turn one of them off.
Former National Security Agency Head Blasts Russians & Snowden: Retired General Michael Hayden, who headed the National Security Agency from 1999 to 2005 and the Central Intelligence Agency from 2006 until 2009, says that there are only two presidents in the world who doubt Russian involvement in the 2016 election: Donald Trump and Vladimir Putin, and he said that Edward Snowden's leaking of information about the NSA has caused many problems. He's also calling for the private sector to do more about fighting malware and cyber attacks.
Spare Parts (only on the website): Some hardware and software manufacturers install annoying pop-up reminders, but these can be turned off. An examination of how Twitter is used to distribute disinformation. Kmart suffers another credit card breach, but mainly involving old-style credit cards. The story of a defense contractor that accidentally posted Top Secret information on a publicly accessible site.
We Have Been Warned (Again): Apparently Britain's National Health Service hasn't kept its computers updated and patched. They weren't alone as a massive ransomware attack crippled some 200,000 computers in more than 150 countries. An anonymous investigator posting as "MalwareTech" found a way to shut down the attack temporarily and the expected second round never materialized, but security is up to you.
Large or Small, Libraries Still Matter: Maybe you don't think of libraries as high-tech operations, but they are. Many have high-speed internet access that patrons can use for free. E-books are commonly available. On-line database searches. Some libraries even run classes to help people use their tablet computers and smart phones. So libraries definitely fit the high-tech classification and they are essential.
Short Circuits: Last Week's Unexpected Absence: Ironically, on Monday of last week, the program was well ahead of the normal writing schedule. The second item was complete and the first item needed only to be updated late in the week. Because of a medical emergency, there wasn't time to complete even the small remaining amount. You may be interested in what that emergency was. If not, this is the last item and you can skip it.
Spare Parts (only on the website): The Weather Channel adds lots of non-weather components to its app and mindfulness is helpful for adults; maybe it can help children, too.
No Program This Week: Because of a medical emergency that has consumed all available time this week, there is no progam or podcast. I apologize for the absence of information, but there was simply no other choice that I could make.
Windows, MacOS, Linux, or Something Else? Microsoft may still own the desktop market, but Apple continues to make slow progress beyond its graphic design user base. There's also Linux and maybe even Chrome OS. If you're thinking of buying a new computer, you may also be thinking about operating systems and wondering which is best. Short answer: None of them.
Short Circuits: Removing the Windows "Shake" Feature: Have you ever moved a window slightly in one direction and then decided that you wanted to move it the other way? Perhaps Windows then "helped" you by minimizing all other windows on the screen or screens. This annoying feature can be eliminated.
Fingerprint Authentication: Biometric identifications are supposed to be totally secure, right? So you may think that the fingerprint scanner on your smart phone is the most secure method you can use. Maybe it's time to rethink that.
Spare Parts (only on the website): Data as a service claims to improve business resiliency. A Dutch philosopher would like us to understand that we have entered what he calls a new evolutionary phase. And your smart phone can help when the weather turns nasty.
Audition Magic Rarely Heard on TechByter: When television was still relatively new, programs occasionally turned their cameras around and let viewers see what was going on behind the scenes. On the rare occasions when this was done, I was fascinated. Today we'll consider some of what happens behind the scenes here. Fortunately, there's no video. The primary tool used to create the TechByter Worldwide podcast is Adobe Audition so going behind the scenes isn't at all daunting and no heavy lifting is involved.
Short Circuits: Fraud Watch: Fraudsters continue to fine-tune their tricks and this week I found two efforts that probably fooled quite a few people. Late in the week, a third example appeared. Let's take a look at them and see what reveals their fraudulent nature.

Microsoft Competes with Everybody: Remember when Microsoft was a software company? Starting with DOS as an operating system and thenWindows. Remember MultiPlan, the spreadsheet program that was a competitor for VisiCalc in the early 1980s? Then came Excel, Word, Access, Powerpoint, and others. But now Microsoft is concentrating on hardware.
Spare Parts (only on the website): Microsoft says that the Windows 10 browser, Edge, is the best browser ever, but some security experts disagree. IBM says that it accidentally sent USB drives that were infected with malware to StoreWize customers. The adoption rate for Windows 10 is increasing in enterprises, but many IT departments are still dragging their heels.
Xara Pro X 365 for 2017 Leaps to the Web: A year ago, Xara released a subscription version of its software -- Xara 365. Now, in addition to updates for the computer-based application, the company has released a web-based application that brings Xara design functions to portable devices. We'll look at both.
Lots of Credit Card Rewards Go Unclaimed: This isn't strictly a technology story, although technology is involved. Mainly it's research that surprised me because so many people seem to be leaving cash on the table -- in effect, giving money to their bank.
Short Circuits: Mounting an ISO File Without a Utility: I've used Virtual Clone Drive from Elaborate Bytes for so long that I somehow missed the fact that it's no longer needed with Windows 10. The free utility has been helpful because it allows the user to mount a image file (ISO) without burning the image to a CD or DVD. But now image files can be mounted by Windows Explorer.
An Easy Solution to an Old Annoyance: This seems to be my week for discovering things that have been around for years. One of my major annoyances with Photoshop files is that they don't appear as thumbnail images in the File-Open dialog. It's a mystery to me why either Microsoft or Adobe didn't do something about this years ago, but it seems that a couple of independent developers saw the need and fixed the problem. Seven years ago!
Spare Parts: Might Wells Fargo have spared its reputation and millions in fines if the company had paid more attention to what people were saying about it on-line? The Asus Tinker Board looks like it will be popular with hobbyists. Retailers are turning to bots and artificial intelligence to give customers a more personalized experience.
Alien Skin's Surprise Spring Present: Alien Skin has just released an update to Exposure X2 and despite the many new features it's a free update for those who have Exposure X2 installed. The key new feature is the ability to add non-destructive layers to images, but we'll consider the other enhancements, too.
Reboot or Shut Down Windows with One Click: Some people make fun of Microsoft for putting the shutdown command on the Start button. It's really not a goofy idea. When you shut down your car, you use the ignition key -- the same thing used to start the car. So Microsoft gets a break for doing essentially the same thing. Still, some improvement is possible.
Short Circuits: Shadow Brokers Exploits May Fall Flat: Shadow Brokers, a group of hackers, apparently attempted to stun the world by releasing 300 MB of exploits aimed at Windows PCs and servers. Microsoft, though, says that most of the exploits had already been patched, some of them several years ago.
The End of the Mouse Tale: Remember the misbehaving mouse? The one that ran around as if being pursued by a large, hungry cat. After several attempts to get the mouse to behave, I finally found the source of the problem and -- as with most cases like this -- in retrospect, the cause should have been obvious.
Spare Parts (only on the website): A survey shows what information we're willing to share with companies to gain access to bargains or better customer support, and now it's possible to order a Sandwich from Subway using Facebook.
Security, Privacy, and Windows 10: The Creators Edition of Windows 10 that Microsoft began pushing out to computers last Tuesday clarifies some security and privacy issues. It also gives users better controls over what information Microsoft collects. We'll discuss it with Microsoft's Nic Fillingham, who heads the small and mid size business division.
That Makes Sensei: Adobe unveiled some new technology at last November's Adobe Max. The company does this each year to tease users by demonstrating yet-to-come features. One of these is called Sensei and, although it's not yet complete, it's closer and we can see how it might be used.
Short Circuits: Vista is Officially Toast: Speaking of Windows updates, and I was in the top part of this week's program, support for Microsoft's second-worst-ever operating system has ended. Vista is no longer supported. Why anyone would still be using Vista is a puzzle, but apparently some people still are even though its much better replacement, Windows 7, was released on July 22, 2009.
Patchety, Patchety, Patch: In addition to starting the Creators Edition roll out on Tuesday, it was also the monthly Patch Tuesday for Microsoft, but the prize for the largest number of patches goes to Adobe with patches to fix 59 vulnerabilities in 5 products.
Spare Parts (only on the website): Battling ransomware on Macs. Laptop Magazine has released ratings for the best laptops and, after 7 years in first place, Apple is now fifth. And where to go if your computer develops a problem in Ayr, Scotland.
Looking at Google's Project Fi: Fe Fi Fo Fum. Google skipped over Fe and launched Project Fi, a different kind of mobile service. So different that it's associated with 3 mobile carrier networks, uses Wi-Fi when it can, and will probably require you to buy a new phone. The week I started using Google Fi, I mentioned it here and said that I'd have a more complete evaluation later. After nearly 3 months, it's time.
Delay Creators Update if You Want To: Microsoft will start pushing the Creators Update out to users on April 11th. This is a major update and maybe you want to delay it for a while. Enterprise users won't receive the update for 4 months and if your computer runs Windows 10 Pro (not the Home edition), you can enable the same delay if you wish. Or you can make sure that you're among the first to receive the update.
Short Circuits: Hackers Say They Have 300 Million ICloud Accounts: Hackers say they have access to 300 million ICloud user accounts and they say they'll delete the data if Apple doesn't pay $100,000. The so-called "Turkish Crime Family" made the claim, but the number of accounts varies. They've also claimed more than 500 million accounts. The claims are dubious.
Intel Spins off McAfee: McAfee, the formerly independent anti-virus maker that was acquired by Intel, is once again an independent company after Intel completed the spin off of the company it bought 6 years ago for more than 7 and a half billion dollars.
Spare Parts (only on the website): Lithium-ion batteries pack more power than their predecessors, but they can burst into flame. Researchers are looking for a better option. Ratings firm Nielsen says it will be using artificial intelligence to give on-line advertisers clearer pictures of internet users. Would you buy your next car from a chatbot? One might be involved in the deal and you might not even notice.
CyberLink Power Director Kicks into High Gear: The last time I looked at Power Director from CyberLink, I was impressed by what it could do but distressed by relatively frequent crashes. The latest version is still impressive and the crashes seem to have disappeared and an already good program has been improved significantly.

House & Senate Vote to Eliminate Internet Privacy: oth the House and the Senate have now passed astoundingly great pieces of legislation -- if you're an internet service provider. If you're a customer of an internet service provider, it's not so good. The Senate passed the law last week, the House followed this week, and the president says he'll sign it. If you value what little privacy you have on the internet, you're not going to like this law.
Short Circuits: Ready for the Windows 10 Creators Update? Microsoft's Patch Tuesday for April (the 11th) will push the Creators Update out to users, but you might be able to download it earlier if you'd like to. Windows Insider members in the Slow Ring received updates this week. The update is, of course, free for any device that's already running Windows 10.
Alien Skin Updates Exposure X2: A new version of Alien Skin's Exposure X2 is free to existing users. Expect a more detailed report in a few weeks. It's called the Advanced Layers Update. In the past Alien Skin and other developers created plug-ins for Photoshop, but now most of these applications work both as plug-ins and as free-standing applications. This puts the developers in a position of being both partners and competitors for Adobe.
The Mouse that Ran Away: Last week I titled an item "How to Fix a Misbehaving Mouse (Maybe)". It's still very much a maybe situation.
Spare Parts (only on the website): Don't even think about the crash jokes that could come from Microsoft's licensing of technology to Toyota, chat-bots appear to be the future of customer service, and GoDaddy has acquired a provider of website security services.
$50 Affinity Designer Battles Adobe Illustrator: Can a relatively new $50 vector editor beat the well established Adobe Illustrator? Probably not, but it might be just right for some users. Affinity is a new brand name from Serif, a company that's been in business since 1987. Serif PagePlus was the company's first application, a low cost desktop typesetting program. Development is underway for a Affinity Publisher, which will take the place of the older application. In addition to Affinity Designer, the company offers Affiity Photo, which was reviewed on an earlier program.
Here's an Unwelcome Sight! The drive was dead and there was nothing I could do about it. Three years. That's how long one of the 4TB HGST disk drives in my system lasted. Whether the drive had a 3-year warranty or a 5-year warranty wasn't as important as whether I could recover the files that were on it.

Short Circuits: Making the "New" Tab in Your Browser More Useful: Click Control-N to open a new browser or Control-T to open a new tab in your browser and you'll see a screen that's probably little more than useless. There's an option for Chrome that may interest you, though. It's called Infinity New Tab and we'll take a look at it.
How to Fix a Misbehaving Mouse (Maybe): Previously I mentioned that I bought a Microsoft Sculpt keyboard and mouse. The mouse behaved badly from the start, but it wasn't Microsoft's fault. Let's start with the symptoms; then I'll explain what was going on and how I fixed it.
Smart Appliances Might Be Dumb Choices: Do you use a smart phone to control things in your house? Thermostats, TVs, maybe the light switches? Just issuing a voice command can turn on the music, turn off the lights, and change the HVAC system from heating to cooling. But they can also create some nasty problems. We'll look at some ways to safeguard your network.
Happy 25th Anniversary to Adobe Premiere: Once upon a time, a very long time ago, video editing required a large room full of high-priced equipment. Then, in December of 1991, version 1.0 of Adobe Premiere was released to compete with Avid's Media Composer that had been released a couple of years earlier. Apple's Final Cut Pro and EditDV by Radius (both have been discontinued) were also on the market. These applications changed everything.
Short Circuits: The Inventor of the Web Says We Could do Better: This week the Guardian newspaper published an article by the guy who invented the World Wide Web. Tim Berners-Lee says that in many ways the web has lived up to his vision, but troubling trends have arisen and they need to be addressed now.
Smart Phones Will Soon Outperform Humans: If the headline "Smart Phones Will Read and Write Better Than 32 Million American Adults in Next Decade" doesn't frighten (or at least concern) you, it should. Software like Siri, Alexa, and Cortana are getting better while American literacy rates remain stagnant. Are we headed for a real-life Idiocracy?
Spare Parts (only on the website): The Video Electronics Standards Association (VESA) represents a global network of more than 230 hardware, software, computer, display, and component manufacturers who seem to be making changes faster than we can deal with them, and thousands of people are bitten by snakes every year, even though snakes generally choose to flee rather than fight. A new IOS and Android app might help.
What You Need to Know about Windows Updates: Windows as a service. You knew this was coming, right? When Windows 10 was released, the upgrade was free to qualified users -- specifically those with Windows 7 and Windows 8.1 who upgraded within a year. But then what? Future upgrades were announced as being free forever on the upgraded computer. And what about new computers -- the ones that came with Windows 10 -- do users of those computers get free upgrades forever?
Worth Reading: How to Defend Net Neutrality: Writing in the San Jose Mercury News, Troy Wolverton says "Net neutrality is under threat, but you can do something to defend it." Naturally, that caught my attention because Net Neutrality has been mis-characterized as a political issue, mainly by the telecoms and internet service providers who want to increase their profits. The key, Wolverton says, is communicating with the Federal Communications Commission.
Short Circuits: RadioShack is Bankrupt Again: You might be surprised to learn that RadioShack still exists. The century-old company filed for bankruptcy protection more than 2 years ago and now it has filed again for Chapter 11 bankruptcy protection. The company used to be where hobbyists went to find parts, where batteries were available in every conceivable size, and where calculators or other electronics filled the shelves.
Facebook's Battle Against Fake News: A lot of information shared on Facebook is demonstrably false and the company has promised to do something to combat the lies. One part of the solution is warning labels and another is providing more information, not less.
Spare Parts (only on the website): The latest version of the Raspberry Pi is being sold in the US only at Micro Center and the pricing is unusual. Also, the National Institute of Standards and Technology hopes to be able to measure something that has been known, but unmeasurable, for centuries.
It's Unwise to Skimp on Keyboards, Mice, or Screens: It's surprising how may people who carefully select a computer based on an extensive review of the specifications sometimes pair that computer with substandard peripherals. It's a false economy. Let's take a look at Microsoft's new ergonomic keyboard and mouse -- and how to fix the keyboard.
Designing Outstanding User Experience Just Got Easier: User experience design has become a big thing in the past few years. You may think that this is a topic for website designers, and it is. But it's also a topic for anyone who designs anything that will be used by people. Adobe XD is still a beta application, but it shows great promise.
Short Circuits: What's More Fun than Resetting a Password? You can probably think of any number of things that are more fun, but more than half of mobile device users, according to a survey, forgot a password in the past two months and had to reset it. This is one more reason why you need a password manager.
Worse than Spam Email: Spam Phone Calls: Some days it feels like I receive every spam phone call made in the nation. Figures for January show that at least 2.3 billion robocalls were made, but the volume is down slightly.
Spare Parts (only on the website): The US Department of Justice and police in several other countries have charged 19 people with fraud that cost victims more than $13 million, someday in the future you might be able to visit a virtual amusement park in the past, and with phones getting larger, LG has just released some of the smallest and lightest notebook computers.
What's All the Hoopla About? As I'm writing this, The Contract is playing on my second monitor. It's a film with Morgan Freeman and John Cuscak. I've borrowed it from the library and I can watch another 10 movies this month for free. It's not Netflix, but it's the kind of inventive services that libraries are offering these days, the kinds of things that might grind to a halt if the Federal Communications Commission kills net neutrality.
More Joy from the Makers of Malware: Macs continue to become more appealing targets for those who create malware, even as some Mac owners hang on to the outdated belief that Macs are immune. No matter who you are or what operating system you have, you're probably somebody's target.
Google-Fi is a New Kind of Cellular Service: A bit more than a week ago, I ported my cellular number out of T-Mobile to Google-Fi. It wasn't because of T-Mobile's service, which has always been pretty good or its support, which has always been adequate. It was mainly a cost issue. You may need a new phone to use Google's service; even so, it might save money.
Short Circuits: The Breach that Wasn't: When you buy a car, new or used, you give the dealership a lot of information. NPR once quoted someone in the industry as saying once they sold cars, but now they're a bank that just happens to also sell cars. You'll sit with the finance and insurance person at the dealership and that person will try to sell you gap insurance, life insurance, mechanical breakdown insurance, rustproofing, and about three dozen other things. What happens to all the data that's collected?
Yahoo Price Drop on Aisle Three: Verizon requested a discount on the purchase price for Yahoo. You might think that $350 million is a lot of money, but the entire deal is still worth a little less than 4 and a half billion dollars. The deal will continue, but there are still issues to resolve.
Hey, Cortana, Give Me a Little Help Here: Whether you've ever asked her to do anything or not, Cortana is on your Windows 10 computer. If you're one of the 12 people worldwide who own a Microsoft phone, she's there, too. But Cortana is available on Android devices and even on Apple phones. This week we'll talk with Cortana.
Looking for Help in All the Wrong Places: Google is an excellent resource for support. Ask it a question and it will point you to several (and perhaps several dozen) answers. Some of the answers will be exactly right, some will be totally wrong, and a few will be dangerous. When you're looking for something that doesn't exist, most of the "answers" will be dangerous.
Short Circuits: Microsoft Keeps Telling Me to Use Edge, But I Don't Want To: Edge is the new browser that Microsoft included with Windows 10. It's a better browser than Internet Explorer, but I prefer to use Chrome, Firefox, or (occasionally) another browser such as Vivaldi or Maxthon. Use one of those other browsers and occasionally Microsoft pops up a message that tells you Edge is a better choice. This is annoying, but it can be turned off.
Open Source is the Future (And It Always Will Be): Ten years ago, supporters of the open source movement were optimistic because Munich, Germany, had fully endorsed a version of Ubuntu Linux and Open Office for municipal government workers. This week Munich's city council started the process of returning to Microsoft applications by 2021.
Spare Parts (only on the website): According to Ars Technica: Malware comes to Macs, thanks to the same Russian hackers who meddled in the US presidential election and if you can spare a little blood, a company says it can make recommendations that might improve your health.
A New Approach from Affinity Photo: Affinity Photo is a new product from a company that used to be known as Serif. The company still is Serif and the old Serif applications are still available, but the development effort is now focused on the Affinity products. Previously available for Mac users, they now have corresponding Windows versions. The interface is immediately both reassuringly familiar and startlingly different.
Frustrations When a Hard Drive Seems to Fail: My wife's notebook computer started having problems. The Firefox settings file was damaged and I had to create a new instance of Firefox. The boot process was taking far too long -- sometimes half an hour, and sometimes it just failed. Occasional blue-screen errors didn't point directly to the disk, so I ran some diagnostics. The rest of the story involves false leads and confusion. You may be amused by this tale.
Short Circuits: Google Plans to Drop Big Hammer on Bad Actors: Nearly any website can be infected with malware. When that happens and Google notices, search results can display a warning. Google also notifies the site owner. What they've seen though, are sites the clean up for long enough to get the warning removed and then suddenly become infected again. Google wants that to stop.
Who Is Trying to Make Net Neutrality a Political Issue? Somebody is trying to make net neutrality a political issue and I think I know who it is. Assuming you're not in favor of slower service, blocked sites, and higher prices, net neutrality is what you want. Be skeptical, ask questions, and follow the money.
Spare Parts (only on the website): Finding legitimate news can be a challenge, but there are many reliable sources on the internet and Forbes Magazine has some suggestions. A start-up company wants restaurants to get rid of their laminated floor plans and grease pencils because there's a better way to seat people.
Fractional Increase Brings Big Changes to SnagIt: When SnagIt 13/4 was released in mid 2016, I was impressed with a number of things, not the least of which was that the feature set was nearly identical between the Windows version (13) and the Mac version (4). Now what looks, based on the numbering scheme, to be a small step upgrade brings several new outstanding features.
ANTHOLOGY: Because it Sounds Better than A Big Bag Full of Little Things: There's a place where I store random thoughts and small stories that show up and have some promise, but aren't big enough for their own segment. When the collection grows large enough, I upend the box on the desk (figuratively), pick up each article and shake the dust off it (figuratively), and see if there's anything worth talking about. Some of the scraps get tossed into the trash as I mutter to myself "What was I thinking?" and others find their way to a collection like the one you'll find this week.
Short Circuits: Don't Let Popcorn Take a Bite of Your Data: Popcorn Time Ransomware takes an unusual approach for ransomware: It apologizes. Then it offers you a choice: Pay about $1000 to get your data back or help to infect other users' computers. A better choice: Tell them to bug off, clear the malware from the computer, and restore from backup. But let's take a look at this unusual approach anyway.
Exposing Fake News With Text Analytics: Finding and exposing fake news is becoming big business. A new startup company, Zetta Cloud, claims to trace back news articles and identify those that have been contaminated by deliberately false reports. The company is headquartered in Romania. We'll take a look at this company that has received a grant from Google's Digital News Initiative.
Spare Parts (only on the website): Most companies seem to concentrate more on the loss of customers than on the loss of data if their systems are breached; if you're a Facebook advertiser, you might want to take a look at an app from ConsumerAcquisition.com; and maybe you remember when computers were fragile, but some of today's computers can survive a misadventure at a construction site.
Crooks Want Your Google Credentials: A listener sent me a link that he had recently received. It claimed to be a link to a file that he needed, but when he hovered the mouse cursor over the link, he saw that it went to a site in Greece. It was an attempt to trick him into revealing his login credentials so the crook could use them. We'll consider defenses.
Enabling Google's Two-Factor Authentication: Using Google's two-factor authentication makes using the service slightly more cumbersome, but it can stop crooks dead in their tracks. Google accounts have a user name and a password. As described in the previous article, thieves have clever ways to get you to reveal your password to them. Setting this up is cumbersome, but it's good protection.
Short Circuits: New World Record for Data Breaches: It should be a surprise to nobody that 2016 was another record year for data theft. More than 4000 breeches were reported during the year and 4.2 billion records were exposed. The previous high was 1 billion in 2013.
Possibly the Least Exciting Computer Application Ever: Shopping for tires? Well, now there's an app for that. Sears Auto Center is piloting a "Digital Tire Journey" web app that may not be the most exciting one ever, but it might be helpful.
Spare Parts (only on the website): Better late that never, Facebook finally tries to take on the scourge of fake news and there are efforts to design ways to give remote employees and third parties an easy-to-use method for secure access to corporate resourses.
Serious Threats Are Aimed at Your Data Right Now: Whether Russia's tampering had any effect on the election or not, it's clear that computers are at risk from Russia and China, but also from Israel, England, other allies, and criminals that are snooping. It's the crooks that pose the greatest danger to most of us because they encrypt your data and then offer to sell you the key needed to decrypt the files.
This week's episode is unusual. Instead of the normal 2 or 3 items in the main section, there's just this one. It's that important. This week's episode is also nearly a word-for-word copy from the January 2017 issue of nLightened Thoughts, my monthly newsletter for clients. That's something I've never done before and it further illustrates the importance of the topic.
Short Circuits: Bogus Warnings in Your Browser: My wife walked into the office this week with her laptop computer. "This just popped up," she said. The message she showed me displayed a blue screen of death, a warning about malware on the computer, and instructions to call a toll free number instead of shutting the computer down. Clearly it was a fraud and we both knew it. But what to do about it? The first thing not to do is panic.
Unexpected Directories Filled With Odd Files: I have my File Transfer Protocol application set to show hidden directories and when I used FTP to transfer some files this week, I found two hidden directories on the drive. Then I looked at the other drives. Each had directories with odd names and the directories were filled with strange files. Was I dealing with an advanced persistent threat that hadn't yet begun its attack? As it turns out, it wasn't malware. I'll explain.
Spare Parts (only on the website): The Economist magazine and Kaspersky Lab ran a competition that challenged college students to find a way to use blockchain technology to make on-line voting safe and tablet computers continue to evolve even though the market segment is becoming mature.
The Essential Password Manager: Next week's program will describe some of the serious threats arrayed against data on your computer, whether the computer is located in a home and has little more than tax records and photos stored on it or whether it's in a corporate office and is filled with proprietary information. This week, though, we'll consider passwords and how you can keep track of them.
Hang Up on Scammers: Security consultant Frank Abagnale has an interesting background. When he was 15, he became a famous impostor and by the time he was 21 he had assumed the identities of an airline pilot, a physician, a US Bureau of Prisons agent, and a lawyer. Eventually caught, he served less than 5 years in prison, then went to work for the federal government, and now runs Abagnale & Associates, a financial fraud consultancy company. He also advises the AARP on how to avoid the many scams that may arrive by phone, email, and sometimes even postal mail. You can avoid the scams and Abagnale explains how.
Short Circuits: Yahoo Will Be Altaba: First question: How is that pronounced? Is it ALT-aba or AL-taba? Verizon is proceeding with its plans to acquire Yahoo's core internet business and a regulatory filing says Yahoo's name will change to Altaba (however you say it).
Using the Universal Computer Fix: A significant amount of tech support time could be saved if users would take one simple step before calling tech support. Nobody expects users to be able to figure out that sector 12,557 on a hard drive has just done bad or that memory chip 2 is about to fail, but sometimes users might find that there's really no problem at all.
Spare Parts (only on the website): Translating websites into multiple languages is time consuming, expensive, and difficult. A new service aims to change that. It's likely that we'll hear the terms "Microsoft" and "Linux" together more frequently in the future.
What's Next if You Got a New Computer for Christmas: Ah, the joys of a new computer. Many manufacturers install lots of junk applications on their computers and possibly the first order of business should be to get rid of the junk that you don't want and that can slow the computer's operation. I mean, one of the reasons you got a new computer was to have a faster computer wasn't it? So let's find a way to rid the computer of the crapware and then let's poke around the internet to find some useful programs that the manufacturer didn't include.
Microsoft Might Try Listening to Users: That headline is somewhat unfair. Microsoft has led the way in analyzing how people use the company's software and making modifications. But the company sometimes also seems to ignore input from those who are most able to provide it. Maybe some changes are in the works.
Short Circuits: A Windows 10 Computer for $150? Yes, there is a Windows 10 computer that costs less than $150. It's unclear how the company that makes these little machines does so. The computers are underpowered and certainly don't have the power needed to run resource-hungry applications. But if you need email, web browsing, and not much else, the NextBook series from E Fun might be worth looking at.
The PC Is Not Dead: When Apple CEO Tim Cook said, in 2015, that the PC was dead, he probably knew that the statement was more intended for shock value and marketing than to describe reality. Cook was using the term "PC" to mean any personal computer -- desktop or laptop made by anyone. In other words, it wasn't a Mac versus Microsoft jibe. PC sales are expected to start rising again after several years of decline.
Spare Parts (only on the website): As you add more Wi-Fi enabled devices to every corner of your home, you'll need a Wi-Fi signal that reaches every corner, and an Irish on-line training center will provide training for Adobe applications and student discounts for Adobe software.
Changes Made for 2017: The shortest list of changes ever!
Who Needs a Chromebook? A little more than 2 years ago, I bought a Chromebook. I haven't used it as much as I expected, but it's still a handy little computer. It won't replace a desktop, notebook, or even a tablet but it's just right in some circumstances.
Saying Farewell to Evernote: Many articles have been written in praise of Evernote, an information organizer that looks like a plain-text version of Microsoft's OneNote. I've used OneNote for a long time and have tried to make Evernote my friend several times. Something that I bought in April or May gave me the pro version free for a year, so I committed to using it instead of OneNote. That experiment ended abruptly just before Christmas and I'll explain why.
Short Circuits: Internet Wild West Unlikely to Improve: Crooks who use technology continue to innovate and find better ways to steal identities and money from consumers and far too many consumers continue to be victimized when they repeat unsafe behavior.
Police, Connected Devices, and Access to Data: How much access should police agencies be given to data on personal devices? This seems not to be a one-solution-fits-all situation, but both technology companies and police agencies seem to be trying to make it one. Might there be a middle way?
Spare Parts (only on the website): An attempt to train emergency responders using virtual reality to make the exercises both more realistic and more safe, and Microsoft Teams has been released in test mode for enterprise customers.